Nonconformist Responses to World War One programme announced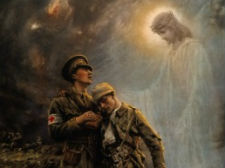 Nonconformist Responses to World War One Programme and Booking details
The annual conference of the Quaker Studies Research Association (QSRA) and the Centre for Postgraduate Quaker Studies (University of Birmingham)
Woodbrooke Quaker Study Centre, Birmingham B29 6LJ
15/16 September 2015
Booking site: http://www.woodbrooke.org.uk/courses.php?action=course&id=9733
Woodbrooke offers bed and breakfast. You can stay onsite by booking additional nights and meals by contacting Woodbrooke directly on 0121 472 5171 or enquiries@woodbrooke.org.uk.
Tuesday September 15
10.30am: arrivals and morning drinks
11am: Welcome and Introduction to the Conference
11.10am – 12.10pm:
Jo-Ann Curtis, Birmingham Museums Trust
Quakers response to Belgian Refugees in Birmingham during the First World War
This paper will explore the role Birmingham's Quakers played in the city's Belgian war relief. It will also explore to what extent they worked alongside other religious groups, in particular Catholics, as well as Trade unions, and the local authority in this effort.
In September 1914 a Birmingham branch of the War Refugee Committee was established. The committee was chaired by Elizabeth Taylor Cadbury, a Quaker, and member of a prominent Birmingham industrial family. By the end of the First World War over 4,000 Belgian refugees had registered as living and working in Birmingham and the surrounding area.
Penelope Cummins, University of Birmingham
'It is not lawful for us to fight': the Religious Society of Friends' response to the Conscription Act of 1916.
When the Conscription Bill was passed in January 1916, the Religious Society of Friends (Quakers) called a special session of their national annual gathering, the Yearly Meeting, to deliberate Friends' response to the legislation. The Quakers, unlike the Prime Minister in his speech about the new law, were clear that their objection was not merely to participation in killing, which might be accommodated by the offer of non-combatant duties, but to war as such. In the 'Adjourned' Yearly Meeting, they affirmed their position that it is a moral as well as a theological imperative that individuals in a society should be able to follow their own consciences.
Friends in Britain had foreseen this situation since the end of the Boer war, and their antipathy to conscription had been refined in the course of their campaigning against its introduction in Canada, Australia, New Zealand and South Africa.
This paper discusses the Religious Society of Friends' response to the legislation, and their attempts to influence its drafting and the ways in which it was interpreted and applied.
12.15 – 1pm:
Betty Hagglund, University of Birmingham.
' "Those Enemy Aliens":Quakers and Germans in Britain in World War 1'
In 1914, there were approximately 60,000 Germans living in Britain. Some had been there for many years, with English wives and children. Anti-German feeling led to attacks on homes and shops, loss of jobs and male enemy aliens being interned, leaving their families destitute. Drawing on original archive material, this paper tells the stories of Quaker involvement with the prisoners and their families, through the war and beyond. This paper was originally given as the 2015 Friends Historical Association Presidential Address.
1pm – 2pm: Lunch
2pm: QSRA AGM
2.45 – 4.15pm:
CONFERENCE KEYNOTE
Lois Bibbings, University of Bristol
Questions of Conscience: Conscientious Objectors to Military Service During the First World War
This paper re-examines the different and often contradictory perspectives of some of the men who came to be conscientious objectors, reflecting on their dilemmas, beliefs and goals in the context of a legal regime which at one and the same time introduced military compulsion but, at least in theory, recognised a right to conscientiously object to it. Amongst the reflections, a key concern will be a reconsideration of what WW1 COs can tell us about conscience.
4.15 – 5pm: Tea
5 – 6pm:
Nicola Sleap, University of Birmingham
'Change in Quaker Businesses and their Environment during World War One'
Wars have a huge impact upon business. This can be both in terms of their effect upon the national economy and the financial state of a business, as well as in terms of wars being the trigger for significant organisational change and learning.
At the opening of the first Quakers in Industry conference in 1918 Arnold S. Rowntree asserted that World War I had fundamentally altered the business climate in Britain, and that it heralded the beginning of an era of self-governance and democracy amongst employers and employees. Rowntree strongly implies that the war itself was the trigger for Quaker business people to begin thinking more deeply about business ethics and industrial relations.
As with Quakers generally, World War I was a potentially divisive issue for Quaker families running businesses. Did their pacifist leanings lead Quaker business people to resist any collusion with a state at war in their activities? Did they see non-military activities as acceptable, or even admirable? In this paper I would give a brief overview of several Quaker businesses and their activities during the First World War, as well as referring to the letters of Quaker business people in the Friend magazine during the war. I would highlight several different paths taken by Quaker business people, and seek to assess to what extent Rowntree's 1918 assertions ring true in the realities of the stories of Quaker businesses during wartime.
Nan Macy, Bellingham, Washington
'Farming for Peace: An American Quaker Conscientious Objector in World War One France'

Amidst unrelenting reminders that war and conflict are and seemingly always have been present, is the reality that people have always—both individually and collectively—worked for peace, often at great personal sacrifice and peril. Accounts of these often humble efforts risk being lost to history.
Drawn from extensive archival research and the letters, photos, and diaries of a specific Quaker, this paper recounts the distinctive experience of an ordinary American Quaker farmer serving his country, his conscience, and the French people outside the military but in/near war zones during WWI.
Despite being subject to the U.S. draft, he and ninety-nine other U.S. conscientious objectors known as the 'Haverford 100' trained together in 1917 before going to France. Once there he worked bombed-out, trenched, and barbed-wired fields, returning them to food production for the French people. He also tended and raised animals for food and for transportation
and working the land.
This quiet story of courage and commitment illuminates the bigger picture of Quaker relief and reconstruction work, particularly the beginnings of the peace and humanitarian effort that grew into the American Friends Service Committee, which shared the 1947 Nobel Peace Prize with the Friends Service Council. Serendipitously, the conference opening date—September 15—is the same date that he arrived in Europe in 1917.