----
Crystal Serenity, RRS Ernest Shackleton & the Northwest Passage — What Could Go Wrong?
//
Old Salt Blog - a virtual port of call for all those who love the sea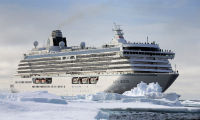 The 1,070 passenger 68,870 GT cruise ship Crystal Serenity is arriving in Nome, Alaska on Sunday, August 21st, before continuing on in a 1,500 km voyage to transit the Northwest Passage via Canadian and Greenland. The 32 day voyage, which began in Seward Alaska, is expected to arrive in New York on Saturday, September 17, 2016. Accompanying the Crystal Cruises ship will be the RRS Ernest Shackleton, a vessel built for and operated by the British Antarctic Survey (BAS). During the Antarctic winter/Arctic summer, the ship is available for commercial charter.
The Crystal Serenity is not the first cruise ship to transit the Northwest Passage but is, by far, the largest. Previously, the largest cruise ship to transit the Northwest Passage was Compagnie du Ponant's 10,944-ton 199 passenger Le Soléal in 2015. The Crystal Serenity has four times more passengers and crew and six times greater tonnage. Berths on the Crystal Serenity for the Northwest Passage cruise start at around $20,000 per person and running up to $120,000 for a deluxe stateroom.
The first large cargo ship to traverse the Northwest Passage was the Danish bulk carrier Nordic Orion with a cargo of 73,000 tons of metallurgical coal loaded at Vancouver and bound for Finland in 2013. The route was 1,000 miles shorter than through the Panama Canal.
Various media reports have described the Crystal Serenity as non-ice strengthened, which does not appear to be accurate. It was apparently built as Finnish Ice Class 1C. The lower ice classes 1A, 1B and 1C are assumed to rely on icebreaker assistance, of which the RRS Ernest Shackleton, is fully capable, with an ICE 05 class rating, exceeding the highest Finnish 1A Super class.
The cruise has many critics. Some question whether the RRS Ernest Shackleton, which was funded by British taxpayers, should be used to promote Arctic tourism.
Prof Michael Byers from the University of British Columbia told BBC News, "There is a significant tension between the science and environmental mission of the Shackleton and its participation in an exercise in tourism that has an enormous per capita carbon footprint.
"This voyage is a significant contribution, at least on a per capita basis, to climate change by people who are going to see an ecosystem before it is destroyed by climate change. I find that irony quite terrible," he said.
The World Wildlife Fund (WWF) highlighted the risk of an accident and it impact on arctic wildlife. Rod Downie, WWF-UK Polar Programme Manager said:
"This voyage symbolises the risk of large scale cruise ships operating in the Arctic. The unique wildlife is already stressed by a warming climate and the loss of sea-ice, and the arrival of mega-cruise ships in this part of the world could push it further towards the edge."
"It's because the Arctic is in meltdown that this cruise can take place. This year we saw the sea-ice crash to a record low for June as it continued its downwards spiral. The loss of sea-ice is bad news for Arctic species like polar bears, walrus and narwhal, and for Arctic people."
WWF believes that the risk of an accident in these poorly charted, ice-infested waters is high. There is no effective technology to clean up oil spills in ice, and little infrastructure in place to deal with a major incident.
Crystal Cruises has released a statement addressing safety and environmental concerns:
"We have taken many extraordinary operational and equipment-related measures to ensure a safe voyage. The typical conditions along the planned route during the Arctic summer are substantially free of ice and within Crystal Serenity's safe-operating parameters.
"Of note is our intention to use ultra low-sulphur content marine gas oil, which far exceeds the current requirements in that region. This, along with a relatively slow transit speed, will achieve our goal of minimizing our carbon footprint."
WWF's Downie acknowleged Crystal's efforts. "We recognize the positive steps that Crystal Cruises have taken to minimize their impact, working with local communities and in particular choosing not to burn heavy fuel oil in the Arctic, which is more persistent and damaging to wildlife if spilled. But if tourism is not sustainable, we risk ruining the very thing that tourists would come to see."
The post Crystal Serenity, RRS Ernest Shackleton & the Northwest Passage — What Could Go Wrong? appeared first on Old Salt Blog.
----
Shared via
my feedly newsfeed


Sent from my iPad