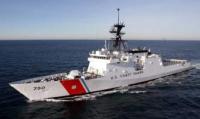 The current administration is considering major cuts to the Coast Guard budget in order to fund it's plans to build a multi-billion-dollar border wall and to crack down on illegal immigration. In the draft budget proposal, the already over-stretched Coast Guard will have its funding cut by 14% from $9.1 billion to about $7.8 billion.
The taxpayer-funded border wall is notionally intended to protect the less than 2,000 mile southern border with Mexico. Notably, illegal crossings of the southern border are already at a 40 year low. The wall would come at the expense of the Coast Guard's protection of the nation's 12,000 mile coast. The shoreline itself, including bays, rivers and capes is over 85,000 miles long.
In addition to saving mariners' lives, the Coast Guard plays a critical role in coastal security, drug interdiction, and environmental protection. As reported by Politico:
In fiscal 2016, the Coast Guard intercepted 6,346 undocumented migrants, patrolled 3.4 million square nautical miles and removed 201 metric tons of cocaine and 52,613 pounds of marijuana worth an estimated $5.9 billion, spokeswoman Lt. Amy Midgett said. It also responded to 35 oil and 17 hazardous substance incidents, analyzed and investigated more than 13,000 and 1,800 cyber events, respectively, and conducted 139 airborne intercept missions over the Washington area at the request of the Department of Defense.
In addition, the demand for Coast Guard assets to train Central American forces in interdiction efforts has increased 320 percent this year, Midgett said.
Most of the cuts would hit funding for new equipment, which would fall by 65 percent to $670 million under the proposed budget plan. The proposal would save $500 million by canceling the contract for a new national security cutter, and it also proposes delaying acquisition of the C-27J Medium Range Surveillance Aircraft for one year.
---
Original Page: http://www.oldsaltblog.com/2017/03/proposed-budget-slashes-billions-coast-guard-fund-border-wall/


Sent from my iPad