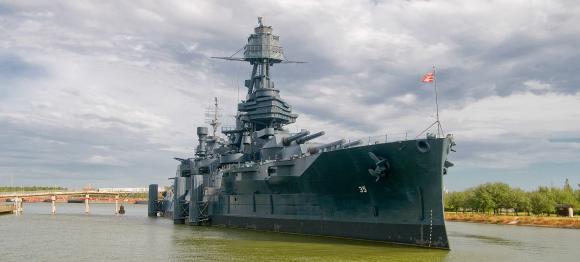 We have been following the continued slow disintegration of the historically rich, but budget poor, Battleship Texas for several years now. The over 100 year old battleship is the oldest remaining dreadnought battleship and only one of six surviving ships to have served in both World War I and World War II. She is also continually on the verge of sinking at her berth in the Buffalo Bayou in Harris County, Texas.
Recently, the Houston Chronicle reported, Battleship Texas closed until further notice, crews working to repair leaks. A week later, the headline was more cheerful — Battleship Texas Leaks Fixed, Retired Ship Reopens Saturday. Now, the media is reporting that the grand old ship is hunkering down for Tropical Storm Cindy, which is heading her way.
None of this is new. Back in 2012, we posted — Update: 100 Year Old Battleship Texas Shutdown Indefinitely by Leaks. The good news is that all that is needed to save the old ship is money. That may also be the bad news.
---
Original Page: http://www.oldsaltblog.com/2017/06/battleship-texas-barely-hanging-closes-reopens-hunkers-tropical-storm/


Sent from my iPad