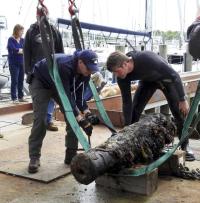 US Navy archaeologists have retrieved a cannon which they believe came from USS Revenge, a schooner commanded by Oliver Hazard Perry in 1811. The schooner struck a reef and sank off Watch Hill in Westerly, RI in 1811. Navy divers raised the cannon on May 24. The cannon has been taken to the Washington Navy Yard to be desalinated and stabilized. As reported by the Westerly Sun:
There are not many examples of early naval guns of this type, said George Schwarz, an underwater archaeologist with the Naval History and Heritage Command. The command oversees the identification and management of sunken naval vessels. "It's a tangible reach back through naval history," he said. Schwarz said he has a high level of confidence that the cannon is from the Revenge.
Perry's career languished after the wreck until he was sent to the Great Lakes during the War of 1812. He's remembered as the Hero of Lake Erie for defeating the British navy. He was famous for reporting simply, "We have met the enemy and they are ours," after the decisive battle in 1813.
"There aren't any other U.S. Navy vessels lost, as far as we know, right in this area, and there aren't too many other armed vessels, as far as we know, lost here," Schwarz said.
The cannon is 5½ feet long and weighs over 1,000 pounds. Schwarz estimates that the conservation process will take about two years.
---
Original Page: http://www.oldsaltblog.com/2017/06/navy-retrieves-cannon-perrys-uss-revenge-off-watch-hill-ri/


Sent from my iPad